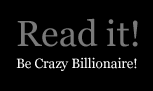 I have done this site especially for Sheldon Adelson
in order to visit crazybillionaire.org
According to Forbes Magazine, Adelson is the 3rd richest person in the world with a net worth estimated at $20.5 billion. His wealth in 2003 was only $1.4 billion [1]; in 2004, his fortune increased 750% after his company started publicly trading. [2]. He is the third richest man in the US in 2006 and Forbes estimates he has been earning about $1m an hour for the past two years.




Sheldon Adelson did not start out as a successful businessman. He lost fortunes in venture capital and real estate before it striking rich with trade shows. He started Comdex Computer Dealers Expo in 1979 and it remained profitable. He sold to Japan's Softbank for an unprecedented $860 million 1995.

Adelson decided to get in on the casino/hotel side of the Las Vegas strip and started Las Vegas Sands Inc. to purchase the Sands casino in 1989 for $128 million. He lost money over 5 consecutive years. It was a sketchy purchase in the first place as casino magnate, Steve Wynn, was opening his $630 million Mirage complex, which boasts a 54-foot volcano. Wynn was backed by a $2 billion credit line. "Their front desk looked better than our whole hotel,'' recalls Henri Lewin, who ran the Sands for Adelson in the early 1990s. After seven years of ownership, Adelson blew it up with 100 pounds of dynamite to make way for the 1.3 billion dollar, 3,000 room Italy-themed hotel-casino-resort, the Venetian. The new resort will feature canals and life-size replicas of the ancient city's most famous landmarks. Adelson hopes to open it in April 1999 and plans to go after a customer he knows well, the Comdex people.

And Adelson knows his clientele too. Each room will have a fax, copier, printer, two phone lines, a dedicated fax line, and a safe built to hold a laptop. The entire hotel is so thoroughly wired so that conventioneers can set up private, local area networks to connect rooms, halls and floor booths. It's a strange paradox that Adelson is taking such care to be so technologically advanced as he does not use computers and is not hooked up to the Internet. Adelson has been a member of the Forbes list since 1995 and currently ranks 327 in Forbes 400 list (1998).



Philanthropic and political contributions

Adelson currently has funded over $25 million to the M.I.S. Hebrew Academy in Las Vegas to build a high school. Currently, the high school has a 9th and 10th grade and will add more grades annually.

In 2005, Adelson and his wife were both among 53 entities that contributed the maximum of $250,000 (thus the total contribution from the couple was $500,000) to the second inauguration of President George W. Bush.[11][12] [13]

In 2006 Adelson contributed $25 million to the organization Birthright Israel, which finances Jewish youth trips to Israel. The gift is anticipated to be given annually for the foreseeable future [14]

In 2007 Adelson founded the 527 lobbying group Freedom's Watch, a group that advocates America's continued involvement in the war in Iraq, and is run and supported, in part, by former officials of the Bush administration.[15] It has unsuccessfully financed several Republican congressional candidates and originally had intended to raise as much as $250 million to attack Barack Obama's presidential campaign. Obama and McCain have both stated they want such groups to stay out of the presidential election. A Freedom's Watch spokesperson said it now will focus on congressional campaigns.[16]

Also in 2007, Adelson pledged another $25 million to the Birthright Israel program, allowing for approximately 20,000 people to take part in the program.[15]

Adelson also has funded the Boston based Dr. Miriam and Sheldon G. Adelson Medical Research Foundation. AMRF is a private foundation committed to a model of open and highly integrated collaboration among outstanding investigators who participate in goal-directed basic and clinical research to prevent, reduce or eliminate disabling and life-threatening illness. [17]

This foundation initiated the Adelson Program in Neural Repair and Rehabilitation (APNRR) with $7.5 million donated to collaborating researchers at 10 universities. [18] Adelson has publicly pledged billions to medical research and has encouraged researchers to contact AMRF with ideas that need to be funded.

Along with his wife, Dr. Miriam Adelson, Sheldon Adelson was presented with the Woodrow Wilson Award for Corporate Citizenship by the Woodrow Wilson International Center for Scholars of the Smithsonian Institution.[19] The ceremony was held on March 25, 2008 in Las Vegas, Nevada. The other award recipient that night was Wayne Newton, who received the Woodrow Wilson Award for Public Service.[citation needed]

Sheldon Adelson has also received the Chairman's Award from the Nevada Policy Research Institute, a free market think tank in Las Vegas, for his efforts to advance free market principles in Nevada.[20]


Sheldon Adelson (1933 - ), the at times controversial billionaire casino developer who made and lost fortunes in the 1960s, rode the tide of the personal computer revolution in the 1980s and 1990s with his computer trade show, and used the revenue to build The Venetian and The Palazzo on the Strip.

The son of a cab driver, Adelson grew up in a lower class section of Boston. He moved to New York for college, and majored in corporate finance and real estate at City College, but never graduated. After entering the U.S. Army in the 1950s, he worked as a courtroom stenographer on Wall Street and started thinking about how to become wealthy there.

By the early 1960s, Adelson had left the Army and attained millionaire status by charging companies fees for showing them how to start selling shares on the stock market. Now wealthy, he moved back to Boston and began investing in companies, eventually owning as many as seventy-five different ones. The price soared for shares of a tour and travel business, the American International Travel Service, his most profitable business. But he lost a fortune when the stock market declined in the late 1960s, and consequently he ran up many debts.

Adelson soon rebounded in the real estate brokerage business by arranging condominium conversions in Boston, and he bought a residential building. But he lost his cash reserve again when the condominium market faltered. Still on the lookout for opportunities, Adelson caught a big break in 1971 when he acquired a majority share of a small company that published magazines, among them a computer-oriented publication, Data Communications User. While attending a trade convention on condominiums in Anaheim, California, Adelson read that a magazine about condominiums had produced the show. He decided that he could use his own publication to produce a show about computers.

His first computer show was in Dallas in 1973. In 1975, he sold his share in the publishing company but held onto the show. He sold his condominium building, launched The Interface Group in Needham, Massachusetts, and concentrated on the computer show. The show grew slowly, garnering only $250,000 in revenues in 1979.

Adelson shifted gears and created the Computer Dealer Expo, also known as COMDEX, which took place at the MGM Grand (now Bally's) in Las Vegas in 1979. The show, intended for small computer dealers, took off, and by 1984, the Interface Group was producing forty shows. COMDEX alone grossed $20 million. COMDEX became the largest trade show produced in Las Vegas, with 100,000 attendees in 1987 and 125,000 in 1988. Adelson's show hit just as IBM, Apple and other brands of personal computers and accessories became a huge international industry. By the late 1980s, his company's net income reached $250 million, and he produced other COMDEX shows in other U.S. cities and in Europe and Japan. Interface succeeded by extracting large fees from exhibitors—as high as $50 a square foot in the Las Vegas Convention Center, for which Interface paid only fifteen cents a square foot.

In the late 1980s, Adelson and his partners from Interface, which also owned two travel companies and several passenger aircraft, decided to look for a resort property to use as a home base in Las Vegas. After overtures to owners of the Dunes, Frontier, and Aladdin hotels, they settled on the Sands, owned by casino developer Kirk Kerkorian. In 1988, Interface bought the venerable but aging Sands for $128 million.

Adelson's redesign scheme for the Sands included a $150 million new resort and shopping mall and a $60 million private convention center for Interface's and other shows. At the time, Adelson, as he would for years to come, had open disputes with the Las Vegas Convention and Visitors Authority (which operated and sold space for the Las Vegas Convention Center), over fees charged for COMDEX. Adelson later complained that the LVCVA's room taxes were too high and its shows unfairly competed with shows in his convention center. He even advocated abolishing the LVCVA, arguing it was no longer needed to promote Las Vegas.

But Adelson's plans hit a snag in 1989, when his hand-picked choice to run the Sands, Henri Lewin, ran into licensing problems with the Nevada State Gaming Control Board. Board members claimed Lewin had not been truthful with them in testimony about a lawsuit brought by a woman who charged that in 1985, he tried to assault her while he was chief executive of the Las Vegas Hilton. The board cited problems with a partner in Adelson's company as well, including past associations with alleged criminals. As for Adelson, the board's investigation revealed many past lawsuits he had filed against creditors to reduce his debts.

But Adelson took advantage of political connections with local and state politicians, who praised Lewin and the Sands project for being good for Las Vegas. While the gaming board voted 3-0 against licensing Lewin, the Nevada Gaming Commission overruled it and agreed to grant Lewin a limited license, with the caveat that he could not run the casino or share in its profits. All five of Adelson's partners received licenses.

Adelson opened the Sands in 1989 and embarked on his building plans. But he soon developed a reputation for being demanding and hard to work with. His association with Lewin quickly soured. Lewin, who said Adelson refused to invest in needed improvements to the Sands' rooms and casino, resigned less than a year later.

In the early 1990s, with the economy at a standstill and money difficult to borrow from banks, Adelson put his expansion plans on hold. He also held back on paying people to whom he owed money. Lewin sued him, alleging Adelson owned him $400,000, and later settled. Adelson's architect for the Sands also sued, and a jury awarded him $1.3 million in 1993.

But in the mid-1990s, the economy and lending markets improved. In 1995, Adelson sold COMDEX to the Japanese firm Softbank for $860 million. Now better able to raise funds from Wall Street, Adelson freed himself of his Interface partners, and built and opened the Sands Expo Center, a 1.2 million square foot convention and show room. In 1996, he demolished the Sands Hotel & Casino to make way for his planned Venice, Italy-themed Venetian, named for the place where he and his second wife had vacationed. The Venetian opened in May 1999.

The hotel proved both controversial, thanks to lawsuits over contractors and Adelson's opposition to the Culinary Union, and wildly successful. Adelson showed that while he was relatively new to the hotel-casino business, he could make big plans with the best of his competitors. Adelson's Sands company reported losses at one point in 2004, despite high revenues, after it granted stock bonuses to executives and paid for the building expenses of a newly planned 3,000-room resort, the Palazzo, north of the Venetian, set to cost $1.8 billion.

Like other Strip developers, Adelson also looked beyond Las Vegas. He became the first American developer to build a casino in Macau, the center of a newly opened, massive Asian gambling market, off the coast of China. The Sands Macau cost $265 million to build and was a big success from its opening in 2004. In Macau, on the so-called Coati Strip, he planned to build seven new casinos, including the $1.8 billion Venetian Macau. Adelson also became the first to win a casino license in Singapore, where he began another casino resort, the $3.5 billion Marina Bay Sands.

More successes led to Adelson's obsession with expansion—he was always looking for new markets, and seeking to outdo his competitors. He took his company, Las Vegas Sands Corporation, public on Wall Street in December 2004. The stock sale was an enormous success—so much so that in 2006, Forbes magazine ranked Adelson, thanks to his profits in Las Vegas and Macau and his Sands stock holdings, as the world's third-richest man, with holdings of $20.5 billion.

Meanwhile, Adelson became prominent in other ways in Las Vegas. His wife, Dr. Miriam Adelson, ran The Dr. Miriam and Sheldon G. Adelson Clinic for Drug Abuse Treatment and Research. Adelson was a major contributor to the local Jewish community and to Israel. He also was heavily involved in politics as a major contributor to the Republican Party.